This web page is partly under construction. Please watch your footsteps.
This web page is made from 100% recycled electrons.
No animals were harmed in the making of this web page.

Attention ! You are entering

Fasten your seat belts and stop smoking !
Ready for Takeoff ? Choose your language and start!
Die auf den gelinkten Seiten wiedergegebenen Meinungsäußerungen
und/oder Tatsachenbehauptungen liegen in der alleinigen Verantwortung
des/der jeweiligen Autors/Autorin und spiegeln nicht die Meinung
des Verfassers dieser Website wieder !!!!!!



for visitors from outer space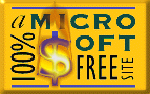 designed for 17" monitors
note: there is no support for micro$oft exploder.
if it works - fine. if not, it doesn't bother me.
If it's created, it's copyrighted.
copyright of this site 2014 by Klaus Spangenmacher